Intro to our Pacific Northwest Adventure!
With these next series of posts, we are going to take you on a voyage to the Pacific Northwest of the United States.  Seeing places different from Florida is simply awe inspiring.  Of all the places we have been, this is the first place my wife would seriously consider moving to.  The trip extended 17 days departing from Orlando International Airport and flying into Vancouver International.  If you read our most recent post on booking airfare, you know we got a really good deal.  Our adventures encompassed so many different activities and places, and we want to make sure we tell you about all of them.   To keep it well organized, we are breaking it up into probably 4 posts.
On the way Flight & Airport Reviews
Let me begin this sections with this, if you can avoid making a connecting international flight in Toronto DO SO!!!  Our connection was in Toronto and it was very confusing, and time consuming.  We had two hours from the time we arrived at our gate until our boarding for our next flight, and it took every bit of it to get there!  In partial defense to the Toronto airport, they are going through a lot of construction.  That being said the entire transition and customs process and directions were very confusing.  Our flight to Vancouver, Canada from Orlando was with WestJet.   WestJet is well known in Canada as the low cost carrier of Canada.  They are relatively unknown to us in the United States.  I will add that I would definitely fly WestJet again.  Their customer service was top notch from the time of booking issues I mentioned in our previous post on the flights, to even letting us check extra bags for free at the counter.  I couldn't be more pleased with WestJet, and they specifically advertise that they NEVER OVERBOOK their flights!  The Vancouver airport is a descent walk to baggage claim and it took a long time to get our bags.  However, all our bags and car seats arrived with no problems.  The best thing about the Vancouver Airport is the free luggage carriers.  In Orlando you have to pay $5 USD to use one.
Rental Car Pickup
We then headed over to the National Car Rental Emerald Club Section.  I can't say enough good things about National, I have used them for work and personal rentals for a few years now.  If you book a midsize car under the free Emerald Club program, you can pick any vehicle from the Emerald Club Aisle.  We walked over and picked out the first minivan we saw and proceeded on our merry way.  Like I mentioned before, I searched for weeks to find the best rental car rate and for this entire trip we paid less than $500 TOTAL for this minivan.  That price is almost unheard of, especially for a minivan.  The Emerald Aisle section at the Vancouver Airport was loaded with Quad Cab Pickups, SUVS, Full Size cars, and even a full-size Excursion.
Snowater Resort
The first week of our stay we used a timeshare exchange to stay at the Snowater Resort.  I'd hardly call this place a resort, but nonetheless it's located right outside the National Park on the way to Mt Baker Ski area so they call themselves a resort.  We had a 1 bedroom loft unit that was supposed to be 2 private bedrooms, but it definitely wasn't a private bedroom as it is open to the living room below.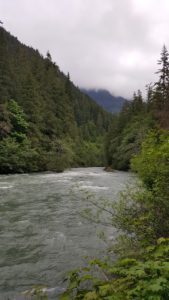 The scenery is gorgeous with views of the raging Nooksak River out back made for an awesome sound machine at night.  It was a down time for the resort so it was really quiet.  Two big negatives with the resort.  The upstairs loft room gets very hot during the day and takes a while to cool off.  There is no fan up there so regulating the air flow was very difficult.  There was also a cleaning fee of $130, yet they ask you to throw all the trash out at the dumpster down the street, wash all the dishes, and take all the linens off the beds.  All in all the resort met our needs, the location was good, and we lived to see another day.  When we come back we'd probably seek out an AirBNB in lieu of this place.
Glacier, WA
We can't say enough good things about the town of Glacier, WA.  First on the list is the Wake n Bakery!!  This place was so neat.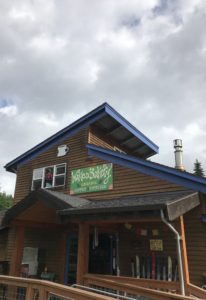 They make a really good cup of coffee and several desert bars and cookies.  Our favorite was the Magic Cookie Bar.  In fact, we liked it so much, we bought a half sheet to take with us the Friday we left Glacier for our next destination so we could have some every day!  The owners are very nice, the place just has a cool vibe that makes you feel welcome and the food is great!  If you are passing by or staying anywhere near Glacier, WA, the Wake n Bakery has to be on your list of places to visit.  Give them a follow on Facebook so you don't forget too!!  Our second favorite stop was the Glacier Public Service Center run by the National Forest Service.  The folks there are very knowledgeable of the entire area, they can point you to some good hikes to check out, road closures, as well as some neat information about the history of the area.  Last but not least, Chair 9 Pizza and Sports Restaurant.  We stopped in here after one of our difficult hikes (more on this later), the beer was good, the pizza was good, and the kids colored while dad got to watch sports, plus they had free WiFi, which in an area with no cell signal is a welcomed site to help plan your next day adventures.
Since this post was pretty long, I figure it's best to let you read through this and digest it before overloading you.  Don't worry there is more to come!  The next post will focus on what we did each day the first week as well as direct links to the Washington Trails App as well as All Trails app and my subsequent reviews and pictures of each trail.  For now enjoy the info in this post and if you have questions, shoot them to us in the comments.  Thanks!