Overview
As our previous post mentioned, we spent the first week of our trip staying in Glacier, WA.  What we didn't say was we did a great deal of driving and exploring.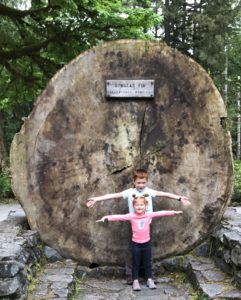 We enjoyed ourselves so much we are hoping to come back next summer.  Enough rambling, we'll get to the details we hope you enjoy as much as we did.  At the end of this post we will post a link to our Google Photos folder from the first week of our trip.  To the right is a picture of the kids standing in front of a giant Douglas Fir on display at the Glacier National Park Service Center.  They couldn't believe trees grew that big!
Day 1 – Deception Pass & Bellingham
In what became a seemingly daily ritual, the sky was cloudy and the rain misty. It was that type of rain that really doesn't even get your clothes wet, just a little damp.  We started our day with a stop at the Wake 'N Bakery to grab a couple magic cookie bars and we were off toward Bellingham.  After an almost two hour drive we arrived at our first stop…Deception Pass.  One can only imagine what the views are like when the clouds disappear.  Even so, the views were phenomenal.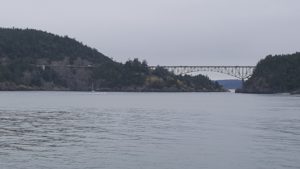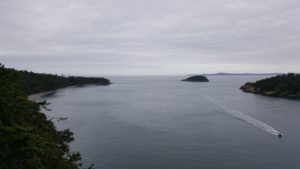 The kids enjoyed climbing the rocks and walking the short trails.  The view from very entrance at the park front he bridge is even more fascinating and again one can only wonder how amazing it looks in person when the sun is out or even better at sunset.  Anytime you can take a minute to go somewhere different, experience something new, and see God's true wonder and beauty, it's as though it takes your breath away.  These scenes made me just want to sit there and stare at them for hours.  From there we took a short little jaunt to Boundary Bay Brewery in downtown Bellingham.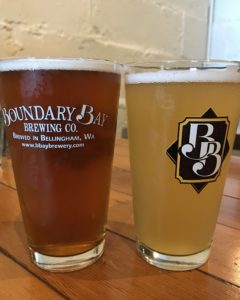 The beer was excellent and the food just as excellent.  There was a really great farmers market going on right across the street that was filled with anything you could think of from the local community.  Since this was our first full day in Washington we spent the rest of the day going to the grocery store and heading back to condo to get situated for the rest of our trip.  This was a great first day to get acclimated to the time change (3 hours) and experience some local culture.
Day 2 – Horseshoe Bend & Mt Baker Ski Area
We decided to begin our northwest hikes with a relatively simple trail, Horseshoe Bend.  This trail follows the Nooksack River for approximately 2.5 miles roundtrip.  There is virtually no incline of any significance, but the beauty of this trail was phenomenal.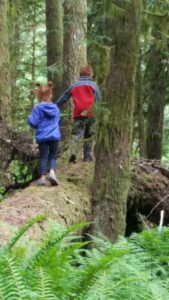 Our kids really liked this hike to get us started.  Evan is six and Olivia is three.  On our entire trip Evan did every hike, faster and better than us adults!  Olivia did as well as she could for most hikes, but really it was a 50/50 chance whether she'd want to hike or not.  She did enjoy this one very much though for it's relative ease.  
The flow of water here is absolutely unbelievable.  The power behind this river is  unlike anything I've ever seen.  I have no doubt there's greater, but this was really amazing.  After this little hike we pulled off the side of the road and had a picnic lunch at the Shuksan Picnic area.  This was a really nice place with picnic tables and areas to walk down to the river and throw rocks and walk along the water.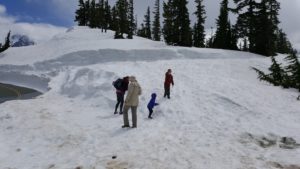 From lunch we proceeded our trek toward Artist Point Ridge trail.  The drive up was absolutely stunning.  The one problem….we could only make it to the Mt Baker Ski area.   Everything continuing on was blocked by snow.  This area received 271 inches of snow this winter, that combined with a late snow and unusually cool temperatures has made the snowmelt end later in the season.  So our entire plan of hiking the Artist Ridge trail was foiled by all the snow.  We didn't let that stop us though.  We decided to attempt to just start hiking in the snow to see how far we could make it.  We didn't make it very far, but the views were absolutely spectacular! The drive up was well worth it just for the views alone.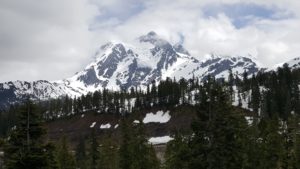 We headed down the mountain and made a quick stop to see Nooksack Falls.  There is no hike to these falls, you park and walk maybe 100 feet to the viewpoint.  It was beautiful and the history behind the falls and the attempts at delivering power to the area were very interesting as well.  There's a road that continues from the falls, but is off limits to vehicles.  You'll need to walk from there.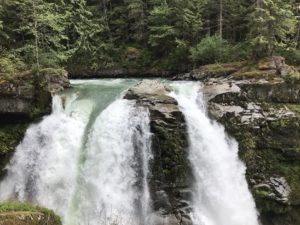 We didn't walk up this way, but Glacier Service Center recommended it to us for a rainy day as it's mostly covered with trees and can keep you dry.  It's just a nice little walk to see the sights and apparently animals frequent this trail.  When Mother Nature changes around you and delays your plans, you just roll with it.  This was a great day and the views were truly spectacular.  We definitely recommend doing the Artist Ridge hike in July – September.  If/When we make it back this way, this is going to be tops on our list and we will be more prepared with snowshoes!!