Days 3 and 4
So we've given you a brief overview of our trip to Washington as well as our first two days.  Now we are going to give you a quick look at days 3 and 4 of our trip.  Up on tap:  Scenic Highway 20, Thunder Knob Trail / Diablo Lake, North Cascades Visitor Center, Washington Pass Overlook, Heliotrope Ridge Trail, and Chair 9 Restaurant!
Scenic Highway 20
We began our 3rd day in typical fashion with a stop at the Wake 'N Bakery.  From there we proceeded south toward the town of Sedro Wooley.  We then picked up highway 20 to head east.  The drive is absolutely beautiful and winds through several small towns.  On a clear day you can catch glimpses of Mt Baker and many other peaks.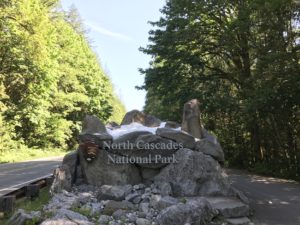 On this day we were fortunate enough to have one of our few completely sunny days.  Our first stop was the North Cascades Visitor Center.   The turn off is relatively obscure, but the center itself is pretty neat.  Boasting a 3D topographical map, video about the area and a gift shop with the usual Park Service trinkets.  A short jaunt down a boardwalk out the back of the center leads you to a nice little view of a glacier.  After this quick pit stop, it was time for our first  hike of the day, Thunder Knob Trail
Thunder Knob Trail
Round trip this trail is about 3.5 miles.  It is also almost completely straight up.  It's a pretty steep climb once you really get into it.  However, the work is well worth it!  We didn't see many animals, just a few chipmunks, but the stench of possibly some bobcats was nearby.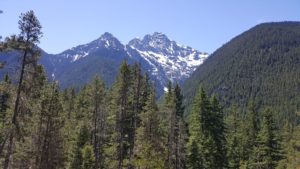 About half way up you get to a clearing where you get a glimpse of something so spectacular it makes you want to sit there and just stare all day.  Alas we needed to move on to see what was at the top!  This hike most definitely worked the calves toting a little one on the back, but our Deuter Kid Comfort III saved my back and shoulders!!!  Once you get to the top though, you are rewarded with a gorgeous view of Diablo Lake.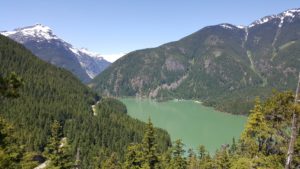 There are numerous sub trails you can take at the top to walk around for differing views.  If you are lucky enough you can get a chipmunk to come up to you.  This is another spot in which you can sit and stare for hours.  It's extremely peaceful and you're lucky if you pass two other groups of hikers on the whole trail.
Washington Pass Overlook
Drive a little further, and by a little I mean a few hours further, and you reach the Washington Pass Overlook.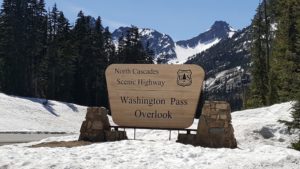 At 5,400 feet it's the highest point you can drive to in Washington State.  On the day we drove up we were forced to park right at the entrance off Highway 20 due to snow covering the road way.  However, that made for a more fun walk up to the boardwalk lookout.  The road was pretty clear, but the kids had more fun running in the snow and throwing it.   As with every stop we made this trip, the views were unbelievable.    With an amazing view of Liberty Bell mountain and the surrounding snow covered woodlands, this was well worth the several hour drive.

Heliotrope Ridge Trail
In what was perhaps one of the most fun hikes we have done with our family, the Heliotrope Ridge trail did not disappoint!  The access to this trail is just down the road from the Visitor Center for the Park Service in Glacier.  Once you turn down the Forest Service road, it is quite a long drive up a very narrow road.  Regardless, the drive is pretty bumpy, but oh so beautiful.  Once you arrive to the end of the road you have reached the trail head.  
I will post a few pictures here of the trail, but they don't even come close to doing it justice.  Determining the full length of this trail was difficult due to all the snow.  Based on our trek using the All Trails app tracking our GPS location, roundtrip we hiked 5.8 miles and exceeded 2,800 feet in elevation climb.  Our 6 year old Evan hiked the entire trail roundtrip with no problem.  Our 3 year old Olivia hiked the first 1.75 miles on her own before finally succumbing to our Deuter Kid Comfort 3 carrier.  Pretty impressive from both kids as the hike was almost entirely straight uphill.  From the moment we hit the trail we had to deal with snow.  Three areas in particular where both sketchy walking across and beautiful at the same time.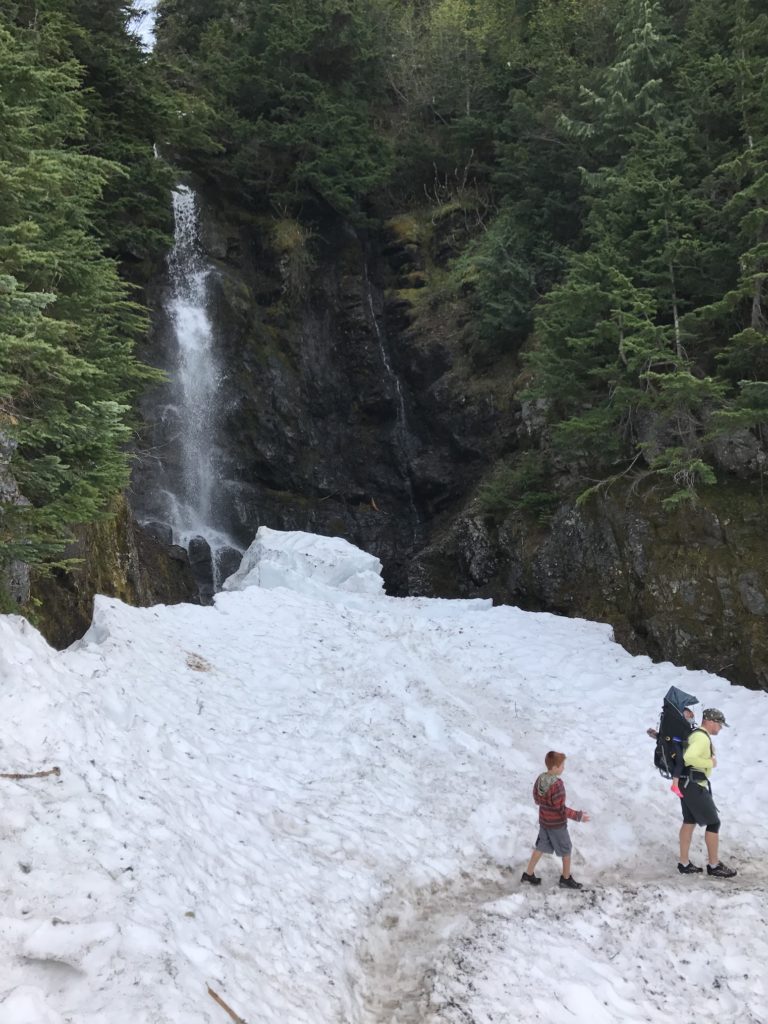 The first is at this small location of a waterfall where everything else is covered in snow and you have only a small thin path in the snow to walk, one slip and down you go to the bottom!  Even more astonishing was the view as you look the opposite direction from the waterfall.  For as far as you can see there are snow capped mountains and the view is just awe inspiring.  The second was right before crossing the creek leading down from another waterfall.  The creek was harder to cross on the way back as the snow melt later in the day had increased the water flow.  Lastly, when we got to the stop, the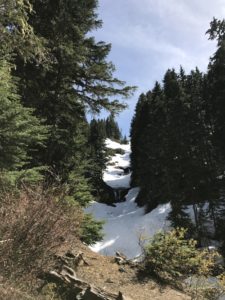 snow was so deep, but as we were walking we could hear the water just rushing underneath us.  It was very neat to hear, but at the same time a little scary knowing at any moment you could fall through.  Lastly, at the top you are again blessed with an assortment of views with more snow and beauty.  We took a break at the top to enjoy some snacks before heading back down.  At this point we were covered in snow.  Thankful we had some great hiking shoes and waterproof clothing…well most of us did anyway.  My poor son's pants were not waterproof, but he was a trooper!  All told the hike took us approximately 4 hours roundtrip.  
We began after lunch around 1pm or so and made it back to the car around 5pm.  When you have kids, hikes always take longer, but we wouldn't have changed it for anything.
After a long tiring hike we didn't want anything to do with cooking dinner.  We were fortunate Chair 9 restaurant was on the way right outside the trail and right before Snowater, where we were staying.  With free wifi, ice cold beer, and coloring pages and crayons for the kids, we were set!  The pizza was excellent, the staff friendly, and the environment was really great.  We couldn't say enough nice things about this place.
That does it for days 3 and 4.  We hope you enjoyed this post and look forward to our next post!