Our last week in the High Country of North Carolina began with a relatively easy drive from the Burnsville area up to Blowing Rock.  A drive to Blowing Rock though is not complete without a few pit stops first.  We weren't really sure what to expect with the weather this week so we wanted to get some of our favorites out of the way first!

This place has become a must stop for us on our trips up here.  First, Beef Jerky is great food to bring along when your hiking….until you run into a bear.  However, we've never seen a bear (knocks on wood).  It's great protein, seals well in the package, and oddly both our kids love it!  There is an endless supply of all different types of jerky here.  From your normal every day orange teriyaki to deer, gator, snake, and camel.  They always have three types of samples for you as well!  The link to their Facebook page is in the header and click on the city of Valle Crucis in the paragraph header to go to the Google Map location as well.  You won't regret it!
Just a couple minutes down from the Jerky Outpost is the Over Yonder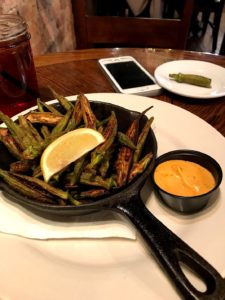 Restaurant.  It's right across the street from the Original Mast General Store .  More on that in a minute.  Instead, let's get to how good this okra was!  This wasn't Cracker Barrel okra that's for sure.  You could tell this was real and fresh!  Just take a look at this picture.  Considering this was a typical tourist time for them they were jam packed, but they fit us in right away, and food came out quick as well.  This was our first visit here and we loved it.  The cheese grilled cheese with the BLT salad was a perfect mixture!
As for the Mast General Store, if you've never been you should go, if only to say that you've been. The place is huge, and on the register of historic places.  Their prices are pretty descent for some of their gear and they always have a sale going on.  If you can't find it here they have a surplus store down the road just a bit as well.  It really is a neat place, but be forewarned it will be crowded!
Last on our list for the drive up was this amazing place!  If you've never been here, you must stop in and order fresh cookies.  
They are so good and they've even won an award or two.  We've tried every single on on the list and have had them shipped to friends as well.  Our favorite go to is the Blueberry White Chocolate Oatmeal….you won't regret it.  By the way the picture to the right is Flat Stella, she went everywhere with us on this trip.  Flat Stella was a school project for our daughter.  Stella had to go places with us and do things with us, and then my daughter had to draw the corresponding pictures.  Funny thing though, this picture is real, but many of the Flat Stella pictures we took I had to photoshop Stella in because we forgot to take pictures with her!
The place we called home for our second week was the Chetola Resort.  The entire size of the facility was very big.  We had a two bedroom condo unit and while the pictures on their website didn't reflect the unit we stayed in, it wasn't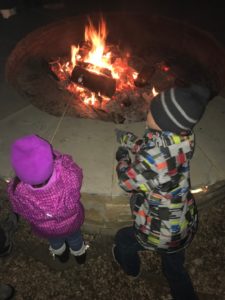 too bad.  The master bathroom shower had issues all week with the faucet and the hot water and the heating in the unit itself struggled to keep up with temperatures in the single digits. They had a fire pit where they held a "bonfire" as they called it.  It was more like 4 or 5 logs and they sold hot chocolate for $3 and a paper bag to make 3 smores for $5.  That was kind of a downer for me.  All in all it was quiet, we slept well, and it was a nice location as we love the downtown Blowing Rock area.
Hikes – Linville Falls-Plunge Basin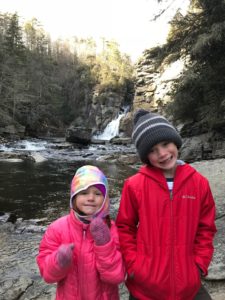 It was so brutally cold that we were only able to complete 3 hikes all week.  If you include the two times my wife and I woke up to watch the sunset from a rock on the Rough Ridge trail, well then that's 5 hikes.  As a family though we completed 3.  The first hike was Linville Falls-Plunge Basin , and this was a great hike.  When I mentioned before that our daughter does not do well with easy hikes, we meant it.  This trail was slippery with ice, huge boulders, quite a bit of mud, and a drastic elevation change and she loved and hiked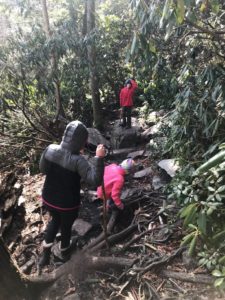 every step of the 2 mile hike.  This was one of the more fun hikes, and one I'd love to come back and do in the summer when it's hot and you can jump in the water.  Being that it was a little more than 20 degrees, we hid from the wind at the basin floor and ate lunch before beginning our climb back.
This hike was a random decision to stop and hike.  We wanted to spend more time outside today as we knew that the cold front was coming in.  This hike was brutally cold because of the wind.  It was quite unreal how much the wind was howling and how the clouds were flowing over the mountain peaks.  The views were pretty.  It was a very short trail, our daughter actually fell asleep in the Deuter carrier she was so worn out from the previous hike we had just completed.  It was a short hike, 30 minutes total, but we got some good pictures to share in short time.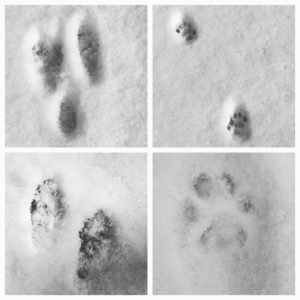 Let me begin this description with the fact that there was no expectation for snow the entire week we were supposed to be there.  What does it do?  It snows a half inch the first day and about 3 inches the 3rd day we were there.  We didn't mind though as it afforded us the opportunity to do a hike mid-morning to Crabtree Falls.  It had just snowed 3 inches, and we were the ONLY people at the trail head.  I came to appreciate this more than most things this week.  It was so quiet and peaceful…except for the
occasional snowball the kids were throwing.  What was great was the animal prints we could see in the snow.  The kids loved trying to figure out what each print was, where it went, what it was doing, and were they looking at us as we were hiking.  As we made it to the falls, the temperature was about 15, but the sun was out and there was hardly any wind.  The falls were mostly frozen over and covered with snow.  It was very peaceful and beautiful at the same time.  This trail took us about an hour total and was a good warm up for the rest of the day.
Snow/Tubing
The kids loved the snow.  That's really all that matters.  We found places to sled, broke a few sleds, had a blast, made some memories, and it was so worth it.
First on this list, we decided to go tubing at Sugar Mountain.  Word to the wise, make sure you get there to be the first group and don't go during Christmas or New Years holidays.  We went a few days after New Years during the middle of the week and had a blast.  Friends of ours tried to go to the session after ours and it was so packed they couldn't even find a parking spot. Early bird definitely gets the worm.  The experience was good, I appreciated the fact they were more safety conscious than Beech mountain and our kids both had a great time.  We chose here because our daughter at 4 years old could tube whereas she couldn't anywhere else.  This was great.
We can't say enough good things about this place.  We've been here a couple of times, and each time the food is absolutely phenomenal.  Yes, it is always a little crazy because of how busy they are.  However, they are responsive, friendly, and again the food is excellent.  Our favorites are the pizza and wings.  I am not sure if we were worn out from tubing and sledding all day or if the food was that good, but we drove from Sugar Mountain up to Beech Mountain on this day just to come here again knowing we liked it last year just to have it again.  If you are near Beech Mountain you have to give this place a try, and while you're there draw a cool drawing representing where your from on a paper plate and put it on the wall!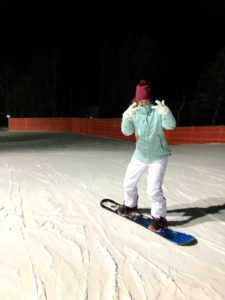 We decided to take on snowboarding at night after the kids were going to sleep at Appalachian Ski Mountain.  Being that it was right around the corner from the resort made it a big plus.  If you have to rent gear the process is a little confusing, but they have people standing around to help answer your questions.  The wait was probably 45 minutes, which I didn't think was too bad considering how many people were waiting.  What was even better is once we got on the mountain there didn't seem to be nearly as many people as we thought.  We rarely had to
wait to get on the lift and the last two hours or so there was no wait at all.  It had recently snowed about 3 inches and they had a good base already from the man made snow.  The staff was excellent, helpful, and polite.  We will most definitely come back here again in the future!
Downtown Blowing Rock
The downtown area of Blowing Rock is really pretty special.  On nice days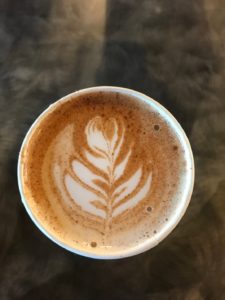 during the holidays it is absolutely jam packed, too packed for my liking.  However, there are so many neat stores, restaurants, a playground for the kids,   free covered parking garage, and an excellent coffee shop.  We highly recommend Camp Coffee Roasters right on Main St.  They coffee is excellent and the bakery items are just as good with other local items offered as well.  This area is a not so hidden gem, but one I can't wait to come back to.
Summary
We are always happy to answer questions and love featuring some of our favorite places to visit on our trips.  The extreme cold this second week made it hard for us to do as many things as we wanted.  The high never got about 15 and the lows every night were around 1-3 degrees F.  While it is definitely a dry cold without the wind,  making it tolerable when the sun was out, the last two days the wind was blowing a constant 35mph and snowing and it was far too cold for the kids to be out in for more than a short period of time.  The windchill the last two days hovered between -10 and -27 and we just weren't prepared with proper hand, feet, and face coverings for the kids.  We love this area of North Carolina and hope you do too!