I know exactly what you're thinking.  I have no desire to try and find the best airline for traveling with my kids,  I have no desire to deal with the hassle at the airport, and  I have no desire to be embarrassed by my kids screaming an entire flight.  Before you have even thought of a trip you have already psyched yourself out.  I am here to save you from your fears, or at least attempt to.  In this first part of our 4 part series on Booking Airfare and Flying….with Kids!
First things first….TSA Precheck & Global Entry.  These two programs will save your sanity on more than one occasion.  Here's the down and dirty.  TSA Precheck affords you the opportunity to go into that little special security line at the airport….with your kids! The best part?  You don't have to remove your shoes, you don't have to remove your 3-1-1 bag for toiletries, you don't have to take your jacket off, and you don't have to take your laptop out.  All of that and you get to keep your feet CLEAN.
Global Entry takes it one step further, for an extra $15 ($100 covers you for 5 years!), it includes TSA PreCheck and you get speedy processing at Customs coming back into the country if you are coming from an International flight.  You must be a U.S. Citizen and possess a U.S. Passport for this option.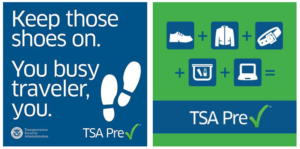 The skinny of it all…signing up for TSA Pre-Check is significantly faster.  However, if you frequently travel out of the country between the US and Canada, waiting for the Global Entry card may make sense for you.
TSA Precheck Benefits over Global Entry
Kids under 12 don't need a separate account.  (Global Entry requires EVERY person to have a card).
Processing time is typically 2-3 weeks
Only $85 per person over 12.  Global Entry is $100 per person regardless of age
What's really neat is DHS has come up with their own tool to help you decide if you can't decide which is best for you.  Follow this link HERE and you can select a couple of drop down to find your best option.