Day 7 – Drive from Glacier, Wa. to Packwood, Wa.
It's hard to believe our first week is in the books.  The drive to our next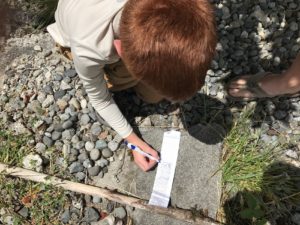 destination, an AirBnb house in Packwood, Wa is about 214 miles.  However, what's a road vacation and road trip without going off the beaten path.  What should have taken us 4.5 hours, ended up taking almost 10 hours.   You may be thinking, what in the world took them so long.   Well our trip was filled with GeoCache stops (at least a dozen), random pull offs to look at train tracks, rainbow chasing, and a waterfall hike.
The Backroads & Skykomish River Railroad Crossing
Google Maps kept telling us for the fastest route to pick up Interstate 5 and head south.  We weren't really interested in that because you miss so much of the countryside.  Instead we took State Road 9 south from Deming, thru Sedro-Wooley (and a GeoCache!)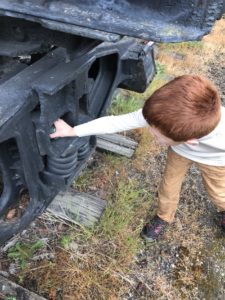 before we finally catch Highway 2 south of Lake Stevens.  We really didn't know what was around us, we were just kind of driving and stopping when we wanted.  When we came to the Lake Stevens area, it was really beautiful.  The houses surrounding the lake were really neat, and the entire town was very quaint and welcoming.  We kept thinking to ourselves, where does everyone work.  Then you look at the map and realize how close you are to Everett and Seattle.  Now you may be looking at the map and saying why did they take Highway 2, it doesn't go toward Packwood.  Well I had done some research online before our trip and saw this railroad bridge near Gold Bar, Wa that crosses the SkyKomish River with mountains in the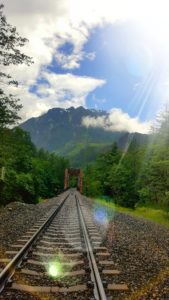 background.  I was not driving through that area, even if it took us an hour out of the way, without seeing that.  It was really amazing because it was absolutely pouring down rain when we got there.  I tried looking at the weather radar and it kind of looked like in half an hour or so there may be an opening.  So we drove past it and decided to look for a GeoCache.  Though, that search turned out to be a DNF.  The Cache was right off the road somewhere, it was pouring down rain, and the ground fell straight down off a cliff.  
So I didn't even let the kids get out of the car.  We drove back to where the bridge was and it was amazing.  The "break" that I thought I saw on radar was actually coming.  I made Laura jump out of the car and go down to the tracks with me even though it was still raining because I could see the blue sky opening up a bit.  Once we got down there it was perfect for about 3 minutes, we had the picture we were looking for which you see here.  It was well worth it deviation from our path and the small town of Gold Bar was kind of neat too because we stopped in the park and found another GeoCache!
Snoqualmie Falls
As we continued our drive we made a quick pit stop at Snoqualmie Falls.  This wasn't a pre-planned stop until the morning we left.  We were looking for a short hike to do to stretch our legs and maybe see a waterfall.  What we didn't expect was a massive tourist resort.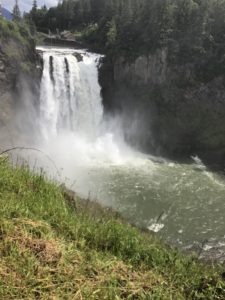 This place is huge, and when I say it's a tourist trap it really is.  There is a giant resort, tons of parking, and tons of people. The trail is even mostly paved.  The view was pretty neat, but we did not stay long, we looked, we walked, and then we left.  We proceeded down the back roads taking us through what looked like an entirely planned city surrounding this waterfall.  It was pretty neat…until we hit rush hour traffic from people getting home from Seattle.  We didn't go anywhere for close to an hour.  We finally made it through and continued our journey approaching Mt. Rainier.
Mt Rainier Approach
Well there isn't much to say about this day, it was extremely cloudy, misty rain,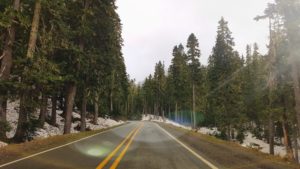 and cold.  We could not see the mountain at all.  In fact we could really only see certain portions of the side of the road.  We did manage to catch one picture in the car looking forward just driving through the park as we got to lower elevations.  The picture was pretty cool and I thought we should share.