Days 5 and 6
Of all our trips, the days are when we just get in the car and go without a plan.  When I say without a plan, I really mean, we are going to a general area and if we see something cool we are going to take that path.  Often times, these paths are representative of the Robert Frost poem.  We almost always like to take the path less traveled by.  During our last two full days in the Glacier, WA area we decided to head back towards Bellingham and also towards the Cascadian Farm.  Some of our visits these days include:  Cascadian Farms, Baker Lake, Chuckanut Drive, Taylor Shellfish Farms, The Filling Station, and GeoCaching!
If you are like us, and have kids, you have tried to purchase all organic groceries.  In addition, like us, you probably haven't been successful in incorporating this into your every day life.  However, that didn't stop us from wanting to visit the Cascadian farm in Concrete, Wa.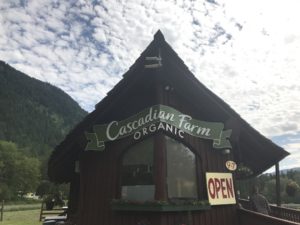 One thing we loved about Washington was all of the farms and gardens people had in their yards.  It definitely got us in the mode of wishing we could have gardens here like they do in Washington.  Here we have two pictures, the first being the obligatory picture of the small building on the property.  In the building they sell a few snacks and milkshakes and ice cream hand made on site.  It was definitely delicious.  We sat out back, enjoyed our treats, and the view.  In the second picture, we have a row of new growth starting up.  
There actually wasn't a sign to say what it was.  However, the more interesting part about this picture is the woods to the left.  To the left on the mountains and directly behind the Cascadian Farms building is all protected forest land.  What's even better is the land was designated as such by local families that owned the land.  They chose not to develop the land, but to set up a natural habitat.  Who is this natural habitat for you may ask.  Bald Eagles.  In the winter they come by the thousands to this one area.  It is so popular that the town of Concrete, Wa has a Bald Eagle festival every weekend in January!
Baker Lake
Baker lake was not one of those places we planned to attend.  However, we are so glad that we did!  It was truly a beautiful, quiet, and peaceful area.  We were driving around looking for places we might be able to cast a line in the water in the Skagit River.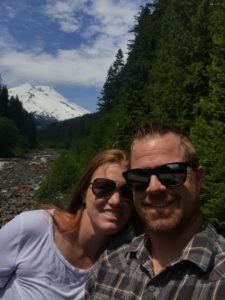 For the majority of this trip, we did not have any cell phone signal, so if we didn't know 100% where we wanted to go in advance, we had to use a paper map.  Yes I said a paper map.  I am thankful that as a kid I was forced to learn how to read a map.  Not just a driving map, but essentially any map you put in front of me, I can read it, understand it, and know where I am.  As we were looking for fishing spots I looked on the map and saw this lake as well as a road that wound is way around varying high points of mountain points, which typically signals there are trails present.  We decided to just take a chance at a side road in the town of Concrete and it led to a road up the mountain.  When we go to the top of this initial road we were blessed with a 3 second view of mountain ranges in the distance to the south.  We then proceeded on the other side of this mountain where we entered the Baker Lake area.  In one of the more picturesque places of our entire trip we snapped several photos that as usual don't even do the area justice.  I could have stayed here for days just enjoying the view.  The first stop we made was Panorama Point Campground.  Yes you can camp with this view.  It is absolutely amazing, stunning, and literally unbelievable.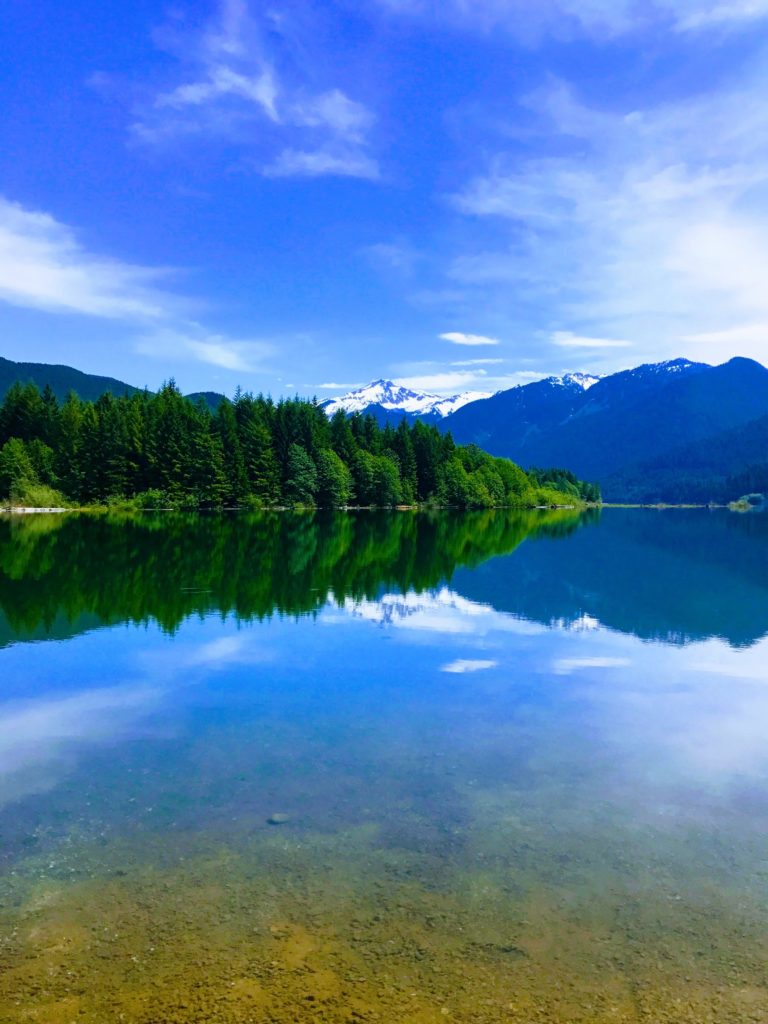 We stopped to have lunch here at the campground and just enjoyed the view.  After lunch we drove across Baker Lake Dam.  By the way….the Dam is super cool and eery at the same time.  When you drive across, you feel like you are only a couple feet above the water level.  My wife had her eyes closed and just kept repeating please drive please drive.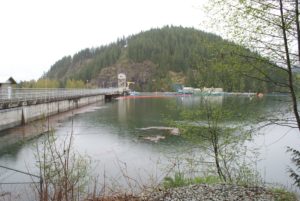 So of course I slowed down for some amusement.  This was a quick stop, but not the last of our Baker Lake area adventures.  We saw a side road that didn't appear on the paper map, but seemed well traveled.  On my All Trails app, it showed a trail at the end of the road, so we decided to give it a shot.  It was definitely a long, bumpy, pot holed covered dirt road.  I don't really know how long it took us to get to the end.  We never even made it because the road turned to complete snow.  Other cars parked where we had and walked the 3/4 of a mile more to the beginning of the trail head.  We definitely have added it to our bucket list because the pictures we've seen from others hiking this trail are amazing.  Do a quick search or click here and check out Park Butte Lookout.  You will not be disappointed.
The long random drives and stops for lunch made our day go by quick, so we took a nice drive back to the timeshare and stopped along the way to do some GeoCaching!
Bellingham – Part Deux
Let's see if we can keep this narrowed down a bit since I've already chatted a bit about Bellingham.  Even though it took our second trip to Bellingham to visit these areas, you absolutely MUST visit these.  
First, a winding drive mostly covered by State Park protected land, Chuckanut Drive.  I can see this being a beautiful relaxing drive by bicycle.  In the rain, the car was much better.  Again, even in rainy weather this drive was incredible with stops overlooking the water, numerous trails and amazing houses in places along the way.
We just happened to be driving down Chuckanut drive when I saw a sign for Taylor Shellfish farms.  About a half mile back I had stopped at an overlook and saw massive Oyster Shell Farms located in the water down below.  It was really quite interesting reading about them and the value they play to the ecosystem out there.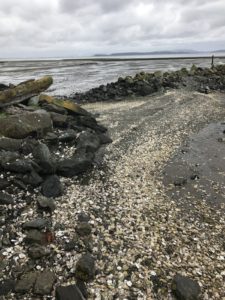 With the issues our local waterways and ecosystem are having here, it was really neat to see how valuable the Oysters can be people are placing here.  In typical fashion for our trips I decided to turn off.  Don't be alarmed, yes there is a straight down hill driveway, yes you cross the rail road tracks where there is a small rail port holding area that you drive right along.  It seems as though you shouldn't be allowed to drive down there.  If you keep driving, eventually you get to Taylor Shellfish Farms.  It's a very neat place, selling all types of Oysters.  We got 2 Dozen of varying types, I shucked them all and we downed them in no time.  I grew up eating Oysters (in Florida only in months ending in R).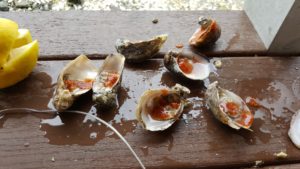 My wife and mother-in-law on the other hand did not.  This picture and video says it all  at the link to the right.  https://photos.app.goo.gl/N1NapfUFuVHfC0el2 This was an experience for them.  It was rainy and cold outside,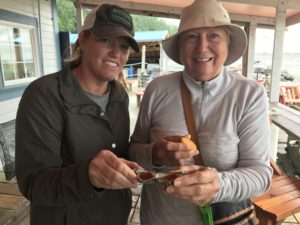 but you shuck em and eat em and toss em all outside onto the shore below their dock.  Really you must stop here and if nothing else learn about the local culture and history.
The Filling Station
For lunch we decided to stop and eat somewhere.  I think we only did this for lunch twice in our entire 3 week trip as eating out is very expensive out here, especially with kids.  That being said, this was a pretty neat place.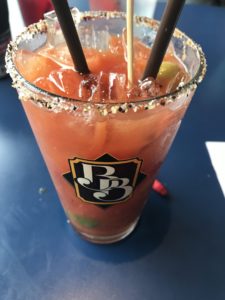 They had Bloody Mary buffet so you could build your own.   They bring your glass with Vodka in it (yes they have Bacon Vodka!!!) and you go up to the bar and pick your own ingredients and fill your glass yourself for your own custom Bloody Mary. Really quite a neat perspective and way to get people to try something unique.  They had a really good tea that day made with mint, lavender and perhaps one other thing I can't recall, but it was delicious.  The food was good as well, several unique items to choose from that made it difficult to pick just one.  All told, we highly recommend you give this place a chance.
That pretty much concludes our last two days in the northern half of Washington State.  Up next…our drive from Glacier, Wa to our "home" for the next week, Packwood, Wa.