Our second post and trip takes us north a bit.  Before AirTran was bought out by Southwest, they were notorious for overbooking their flights from Atlanta to Orlando.  As luck would have it and I would have to go to Atlanta for work, I would volunteer my seat in return for 1 or sometimes 2 free roundtrip tickets anywhere in the Continental US.  Thanks to those tickets, myself, my wife, and my mother-in -law all went to Niagara Falls courtesy of AirTran.  Our next post will focus specifically on Airlines, finding the cheapest airfare, and traveling with kids.
For now though, I bring you Niagara Falls from our trip that occurred the end of October 2010.
.
This picture here was truly one of those once in a lifetime opportunities.  We stayed at the Embassy Suites on the Canadian side of the falls.  Traffic crossing the border at the time really wasn't that bad at all.  That was of course over 6 years ago.  What's funny about this trip was that we don't recall a lot of details.  This was shorter than our typical trips.  My wife was also 6 months pregnant and until that point had been sick just about all day every day of the pregnancy.  With that in mind, our activities were a lot less strenuous than what we normally do.  Since this will be one of our shorter posts I also thought it would be great to implement our new section in our blog: Must Do, Don't Do, Maybe Do and Travel Tip sections.  With each future location post we'll have that section filled out with maps and links to everything worthwhile.
Must Do
Cave of the Winds – Not only was it truly spectacular and breathtaking, but it was not very strenuous and truly a beautiful site.
Made of the Mist Boat Tours – We did not do this.  The season ends the last week of October and we arrived 1 day too late.  However, we have heard from enough people how awesome this is.
Stroll along the sidewalk following the Falls on the Canadian Side.  They have done a really great job with making the entire area on the Canadian side of Niagara pedestrian friendly.  Shops, restaurants, and views of the falls for several miles.  It is just a really neat area and set up perfectly for an evening stroll.
Toronto – Talk about neat cities.  We have been wanting to go back ever since we went, and plan to one day.  You will see some of the pictures from below, we didn't take very many, but Toronto is a neat city.  Be sure to check out the Distillery historic district as well as SOMA Chocolatiers for some one of a kind to die for chocolate.  We only spent 1 day in Toronto, but we also experienced the CN Tower (which you must do because everyone does it), however, it does have some spectacular views of the city.  Lastly, almost across the street from the CN Tower was Steam Whistle Brewing…free tours and FREE Beer!
New York Countryside – Get a map….not a GPS…and just drive.  Unless you want to pinpoint directions to one of a dozen various wineries.  They aren't the best I have ever been too, but the drive to them was well worth it.  There is some beautiful countryside and some neat small farms you can stop and pick your own fruits and veggies.
Buffalo – but you really only need a day.  It's a pretty drive through some of the city and there is a small historic area.
Don't Do
Don't travel after the 2nd week of October.  Half of everything is closed down due to impending winter weather.
Don't book during major holidays.  Remember this is a major tourist attraction. Not only are there going to be MANY more people, but all costs will be significantly higher.  Avoid holidays if you can.
Travel Tips
Fly into Buffalo, typically it is cheaper.  However, if you have a passport we have seen rental cars be significantly cheaper out of Toronto.   If you are going for an extended period of time, and have a passport, I'd fly into Toronto.  Here's a quick tip on rental cars before we dive deeper in a few weeks…always book several rental car reservations.  Book the cheapest one you find, then if you find another book it then cancel the other.  Keep doing that and checking literally every day.  Prices change hourly for rental cars it seems.
Last, but not least, enjoy a view of our favorite pictures.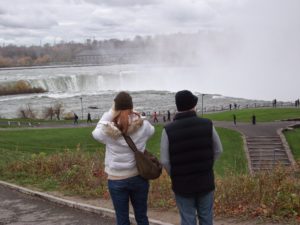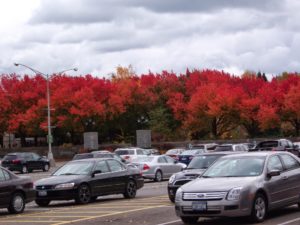 Fall!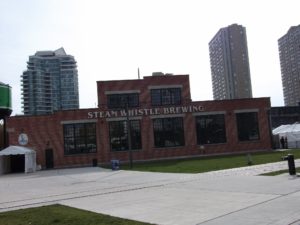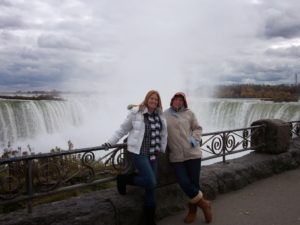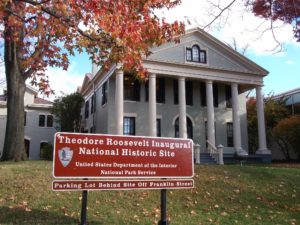 Buffalo – Roosevelt Historic Site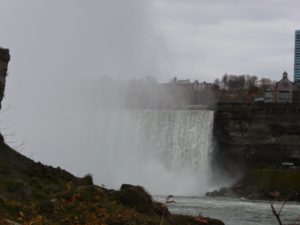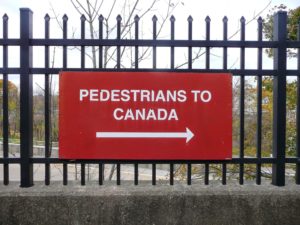 Lookout over the Falls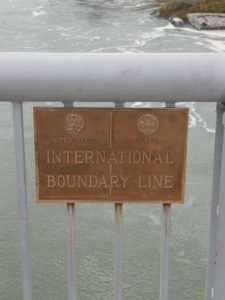 US / Canada Border Crossing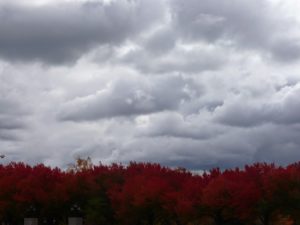 Fall Leaves
 SOMA – Need we say more
 The Falls lit up at night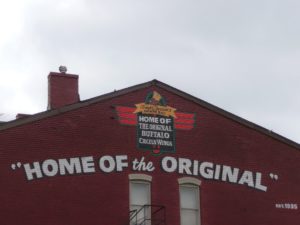 Anchor Bar in Buffalo – Supposedly home to the original chicken wings